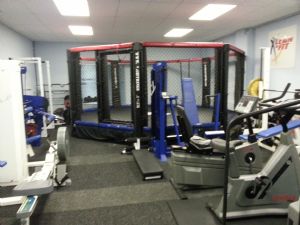 Gym
We offer free gym membership to our Adult Students and Parents of Children enrolled at the Academy. There is good selection of Olympic Weights, Smith Machine, Squat Rack, Barbells, Dumbells, Free Weights, Weight Resistance Machines for all Body Parts and Cardio Equipment, such as, Treadmills, Cycles, Stepper etc.
As this is a Private Gym for our Students and Parents only, you don't have to worry about queues for machines as there is plenty for everyone.
So, if you are a Parent who doesn't have the time for a workout then why not have a training session whilst your child trains in one of our Martial Arts classes. You can even book a session with one of our Trainers to formulate a training plan for you.
For our Adult Students, Weight Training is the perfect complement to your Martial Arts training, whether it be MMA or one of our other programs.